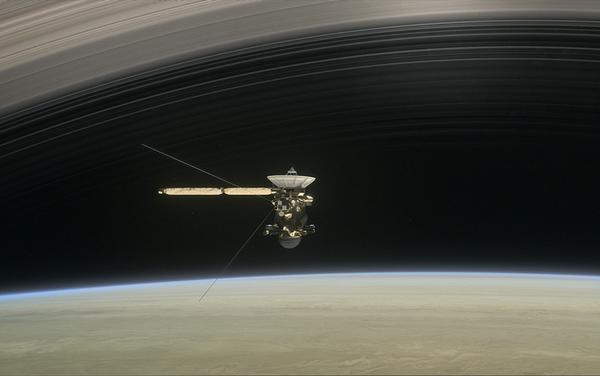 The spacecraft's final observations are turning up a wealth of bizarre, unexpected phenomena.
But what they seem to have found was far more material than they had expected, coming from far more exotic compounds. The instrument spotted not just hydrogen and helium but also carbon monoxide, methane, nitrogen and the unidentifiable remains of organic molecules.
Other instruments suggested that this downpour also included water ice and silicate particles and showed that the downpour is triggered by the interaction of these particles with the highest levels of Saturn's atmosphere. Around the whole ring structure, it all adds up to somewhere around 10 tons (9,000 kilograms) per second.
"The complexity of what was going on there and the amount of material that was infalling was very surprising," Hunter Waite, the principal investigator on INMS and a scientist at the Southwest Research Institute, told Space.com. And the discovery doesn't just reveal an intriguing phenomenon about a distant world—scientists say that if the finding holds up, it might have much deeper implications in our own solar system and beyond.
Waite said that the unexpected diversity of compounds in the ring rain might affect scientists' estimates for the composition of the atmosphere, which could in turn mean adapting hypotheses about how Saturn and its neighbors formed and evolved. "It might just have this facade," Waite said of Saturn. "[That might have] been a little bit deceptive in steering our thinking about formation and evolution."
Moreover, because there's so very much of the material, the new results pose a puzzle: Where does it all come from? "This can't be a continuous process, or the rings wouldn't be there," Meinke said. They would run out of material in perhaps tens of thousands of years, leaving Saturn bare. "The real story that [the paper is] telling is about the churn of Saturn's rings… rings can be long-lived because they're constantly moving and turning over."
Continue reading at
scientificamerican.com>>
HOW TO PARTICIPATE
We need your help deciding if this article is biased, fake, or gold! Here's some things you can do:
Finish reading the article at the original source above
Vote on the article in the ratings box (requires login)
Go to the comments section below and discuss the truth of this article with others
Connect this story with others by submitting more articles to the section or storylines shown below
Share this story on your social media to get more accurate and unbiased results about its truth and bias.
Thanks! You're the best!
1227 articles submitted, 52 comments, 3124 user score with a lean of Center and a credibility of Rock Solid